Product Name
HPL Laminated MGO Board for Interior Furniture
Brief Introduction
HPL Laminated MGO Board for Interior Furniture is used magnesium oxide board as substrate material, and compounded with gluing
melamine paper to MGO BOARD.
It combines the advantages of MgO board and melamine paper, and is an innovative decorative wall material.
High quality hpl laminated mgo board decorative insulation mgo board is widely used for interior decoration and furniture
making.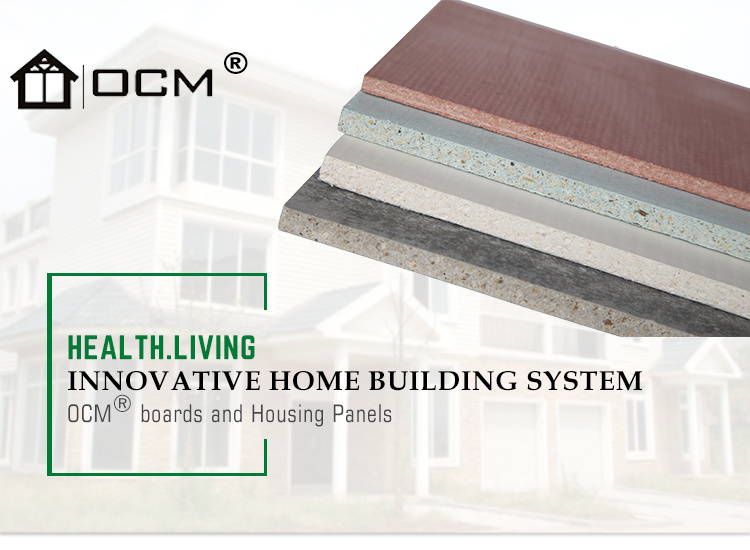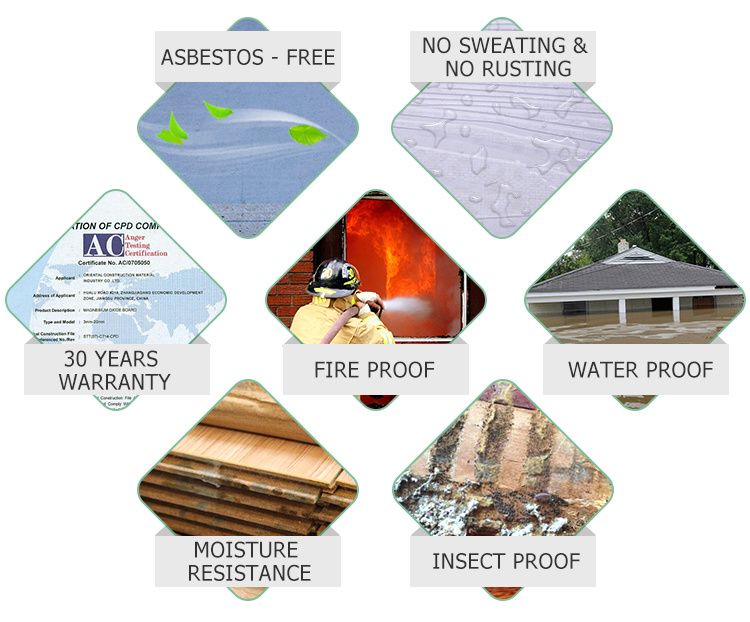 Specification
| | |
| --- | --- |
| Face | HPL one face or two faces |
| HPL surface | Matt, Glossy, Relief, Grain, etc |
| Core material | Magnesium Oxide Board /Mgo board |
| Glue | E0 |
| Size | 1220*2440,1200*2400mm |
| Thickness | 6,8,10,12mm |
| HPL veneer thickness | 0.5mm,0.8mm,1.0mm |
Properties
1. Good visual effect, the panel can be made into different designs with vivid gloss.
2. Tough, abrasion-resistant, heat-resistant
3. Acid-resistant, alkali-resistant, oil-resistant
4. With smooth surface, easy to clean
5. Fireproof: Grade A non-combustible
6. Waterproof
7. Healthy and environmental friendly, doesn't contain asbestos, formaldehyde or benzene
Data Sheet
Compressive Strength

~20 MPa (3, 000 PSI)

Impact Resistance

> 6 kJ/m2

Tensile Strength

> 5.5 MPa

Density (Specific Mass)

~1000 Kg/m3 (+/-< 2%)

Moisture Absorption

~26% maximum saturation (slow absorption rate)

Moisture Content

~6%

Water Vapour Diffusion

~28 / 35

Specific Heat

~930 J/kgK

Thermal Conductivity

~0.44 W / mK

Modulus of elasticity

~6045 N/mm2

Flexibility
UNI E 12372
~20.1 N/mm2 maximum
12mm x 1220 x 2440 = 10 N/mm2

Surface Alkalinity

~10 Ph

Thermal Expansion Hot/Cold

0, 01 mm/mC (from temp +20C to -20C)

Expansion in Water

less than < 0.02% from ambient to saturation

Freeze / Thaw - UNI EN 520

100 cycles without notable effects

Frost Resistance

no water drops form on surface

Combustibility / Fire Ratings

non-combustible / 12mm exceeds 1 hr fire rating

Dimensional tolerance

thick 0.2mm / width 2mm / length 3mm / Sq. 3mm

Toxicity Pollutants Heavy Metals - UNI EN 12457-2

Below measurable levels of test instruments

Asbestos Analysis

Absent - not measurable

Formaldehyde Analysis

Absent - not measurable

Sound Attenuation (9mm)

tested design ASTM E90 = STC 48, 50, 55, & 60

Color

Slate Grey and Chalk White

Surface texture

smooth one side; uniform machine textured back

Basic Compounds

(MgO)+(natural silicates)+(glass fibre)+(wood fibre)
Application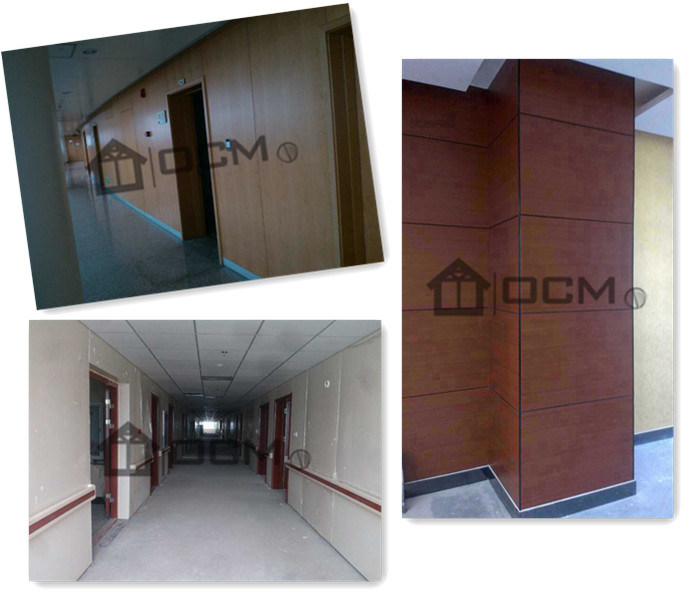 Interior decoration used in furniture, cabinet, Marine,kitchen, bathroom, teapots, windowsills, interior wall panel and so on.

Pattern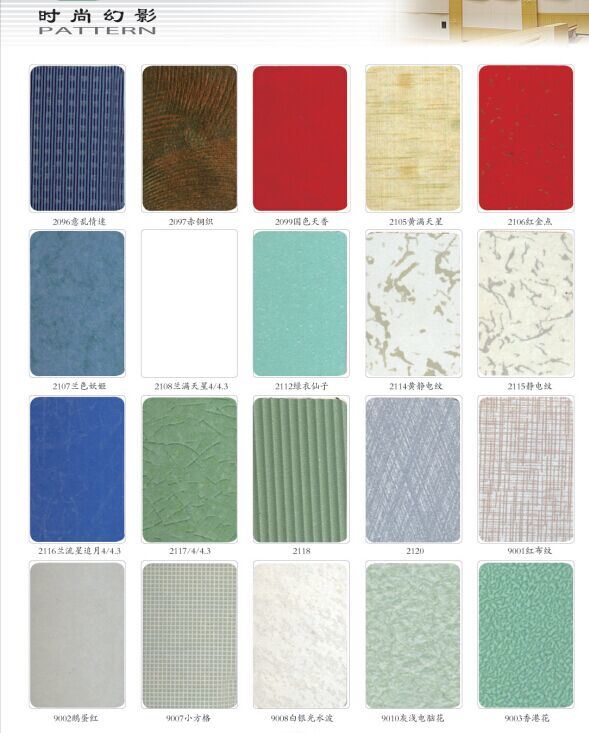 Certificates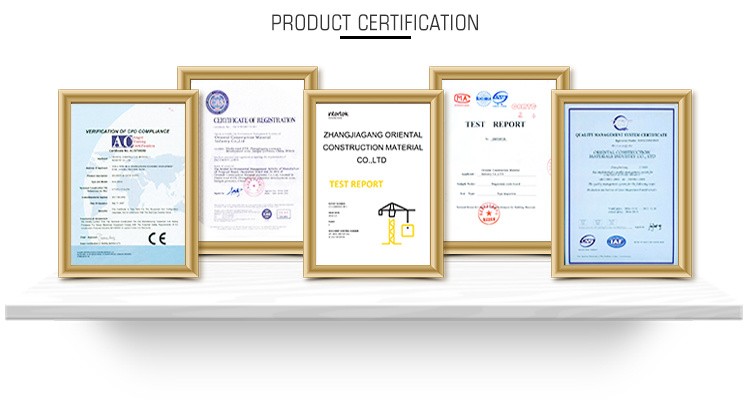 Exhibition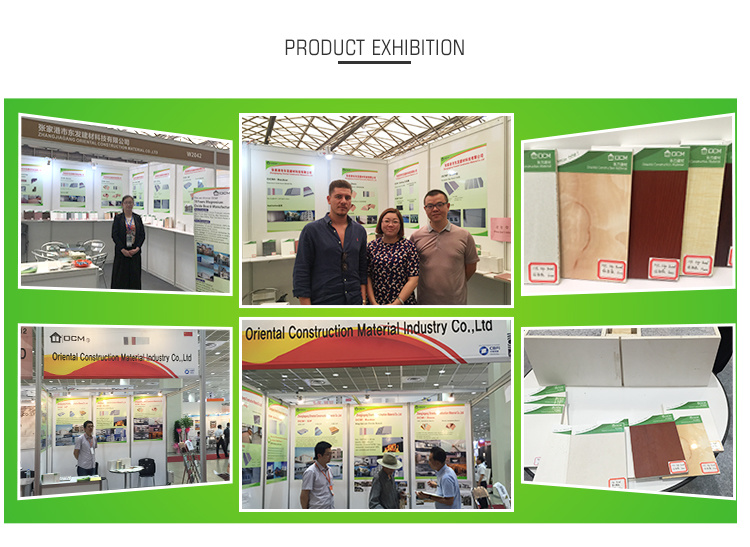 Company Information
OCM(Oriental Construction Material) is a professional manufacturer of mgo products. This fireproof material can use from ceiling to flooring and everything in between.

FAQ
Q:What's your delivery time?
A: 15-20 days after receive the deposit
Q: What's your payment?
A: T/T, 30% as sown payment and balance after B/L or irrevocable L/C
Q: Can you do customized product?
A: Yes, we can cut any sizes as required.
Q: What's your company production capacity?
A: We can produce 8000 sqm (10 mm) per day
Q: What's your MOQ? Can we order mixing different sizes?
A: Yes. MOQ is 100 pcs and mixed loading also acceptable.